BankDhofar introduces cardless banking through ATMs using mobile number
Posted On June 11, 2019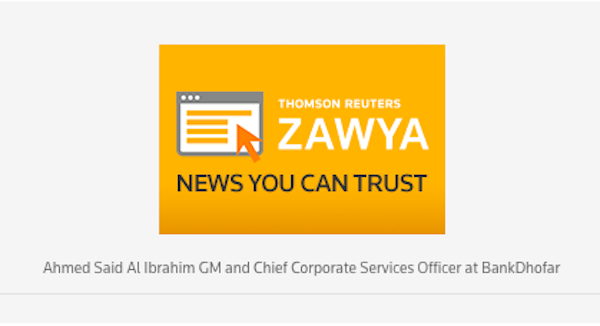 The service is highly secured.
Cardless Banking is an extension of Cardless Cash service in BankDhofar's Mobile Banking App.
Muscat: Reiterating its position as the leading bank in providing innovative services, BankDhofar launched Cardless Banking service through ATMs. The first of its kind service in the world, enables customers to conduct ATM transactions easily only by using their mobile numbers. This innovative service is an extension of the flagship cardless cash service which is available only with BankDhofar Mobile Banking App.

On the achievement, Ahmed Said Al Ibrahim, General Manager & Chief Corporate Services Officer at BankDhofar said: "BankDhofar keeps digital technology and innovation at the core of its strategy to improve the experience of its customers. We are always keen to adopt the latest technology to ensure the utmost convenience for our customers."

To avail from the service, customers have to activate their mobile number through BankDhofar Call Centre or Mobile Banking App. Customers may then go to the nearest BankDhofar ATM, and insert their mobile number, one-time PIN (OTP) and the card PIN. This unique service is an extension to the cardless cash service which is available only with BankDhofar Mobile Banking App.

Dr. Tariq Taha, Chief Digital & Information Officer said: "We are delighted to be the first bank in the world to provide Cardless Banking service through ATMs using mobile number. Our Customers' convenience comes first and foremost, therefore we always provide them innovative services. This service is an extension to our Cardless Cash Service through BankDhofar Mobile Banking App, and it is highly secured. Customers may conduct ATM transactions using their mobile number only."

"At BankDhofar, we are always keen to develop products and services that cater to the needs of our customers ensuring their convenience. With the Cardless Banking service, customers don't need to worry when they forget their ATM cards. They may benefit from ATM services easily using their mobile numbers." Marwan Al Zadjali Head of Alternative Delivery Channels at BankDhofar, added.

With Cardless Banking, customers may withdraw cash, pay bills, request for cheque book, balance inquiry, and request for mini statement.

As part of its "Together 2020" journey which aims at reaffirming its position as a leading bank in the Sultanate and the best in the Gulf, BankDhofar continues to provide the best customer experience, innovative products and creative services that are custom-made to meet the needs and requirements of our customers. The combination of the thorough vision of the bank's executive management, the comprehensive operational strategy that revolves around following best international banking practices and providing best customer experience, as well as commitment to community development and contribution to the growth of the national economy, placed BankDhofar on top of the list of best banks in the region.
Source: Zawya