Noor Bank, Smart Dubai explore latest innovations in banking
Posted On November 4, 2019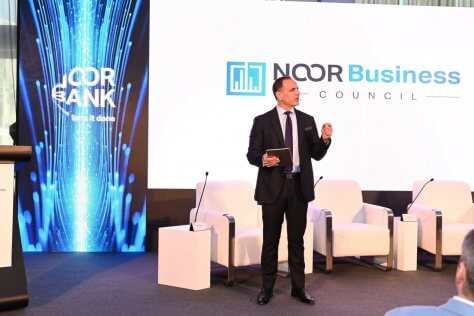 UAE-based Shariah-compliant bank Noor Bank has highlighted how the latest technological innovations are impacting the banking and finance sectors.

During the fourth session of the Noor Business Council, a thought leadership platform led by the bank, it examined how global and local organisations are embracing technology and its influence on the wider industry.

Wesam Lootah, CEO, Smart Dubai Government Establishment, said, "As the government entity tasked with leading Dubai's transformation into a full-fledged smart city, Smart Dubai is always encouraging the private sector to embrace advanced and emerging technologies, and harness their potential to create services and initiatives that address people's needs, ensuring an increase in the city's happiness levels and standards of living."

He added, "We applaud Noor Bank for its efforts in highlighting the potential of innovation and technology in the financial industry, and its impact on start-ups and established corporations alike. The Noor Business Council offers a prominent platform for exchanging insights and expertise on the matter, and we are delighted to be part of that conversation."

John Iossifidis, CEO of Noor Bank, said, "It is indeed a pleasure to discuss innovation – a topic that is all too relevant for us in the financial sector. For us at Noor Bank, innovation is more than a strategic priority – we view innovation and technological disruption as an opportunity as opposed to a threat. This has led us to make significant investments in developing our digital infrastructure, actively adopting emerging technologies, and driving product and service ideation as we shape our customer journeys."

At the event, Moza Suwaidan, Director of Strategy and Innovation at Smart Dubai Government, delivered a presentation on how Smart Dubai is revolutionising city services in an era of emerging technologies to more than 100 customers, experts and representatives of the executive management of Noor Bank.

The agenda also featured a presentation by Umar Khan, Head of Innovation at Noor Bank, on the 'how' of innovation, and a panel discussion, moderated by Richard Thompson, Editorial Director at MEED, a leading MENA business intelligence tool providing news, analysis and insight into regional markets. The session explored the potential of innovation, and analysed the impact of embracing innovation and technology in the SME and corporate banking space. Participants included Alex McCrea, Head of Strategic Partnerships, Fintechs and Ventures – MENA at Visa, Raja Al Mazrouei, Executive Vice President of FinTech Hive at the Dubai International Financial Centre (DIFC), Mohammed Ibraheem Khan, CEO of GoldGuard FZCO, and Noman Rasheed, Chief Information and Operations Officer and Senior Vice President at Noor Bank.

During the event, Noor Bank offered a sneak preview of its latest virtual card, an innovation that will be available to card customers soon. This new product will unlock access to a host of benefits, including secure payments and purchases at merchants around the world.

The Noor Business Council is a periodic thought leadership forum that aims to achieve three core objectives: to support the government's vision to establish the UAE as a leading commercial and financial hub, to empower the local business community through addressing its issues and educating key stakeholders on the current challenges and opportunities in the banking sector, and to strengthen collaborations with government entities while helping customers connect with them.
Source: TahawulTech.com