Collaboration is key for banks and FinTech firms, say finance executives
Posted On July 7, 2019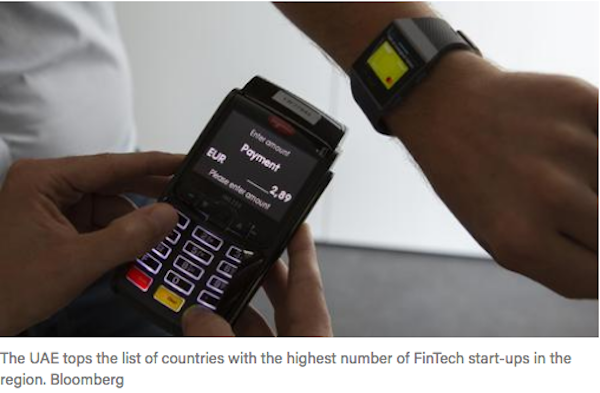 Financial technology companies are becoming an integral part of the banking industry that is looking to find simpler, quicker and more efficient services for customers in the fast changing digital world.

Collaboration is the key, say industry experts. Banks have the customer base while FinTechs have cheap and efficient service solutions. The two can benefit by working together.

"Both banks and FinTechs have common goals. Their partnership can bring valuable elements to the financial services space," said Jayesh Patel, head of Liv, the digital banking unit of Dubai's biggest lender, Emirates NBD.

The FinTech sector in the Middle East and Africa is forecast to make up 8 per cent of the total revenue from financial services by 2022, driven by customer demand and increased investment, according to a joint report released in November by professional services company Accenture and Dubai accelerator FinTech Hive

Through FinTechs, "banks can launch new services quicker", while "FinTechs find new ways to monetise their innovations", added Mr Patel.

"FinTechs focus on specific issues, solve them and create an improved experience for the customer. This allows banks to add more services for their clients," he said.

Founded in 2017, Liv signed a multi-year agreement with payments innovation service Verrency in Melbourne in December last year. The deal enabled the Dubai lender to access cost-effective, cloud-based payment solutions.

The global payments company Visa, which works closely with banks and FinTechs, said both can make best use of each other's strengths to enable a "smart banking" model.

"FinTech start-ups can use resources, infrastructure and scale of traditional banks, while banks can harness the data analytics capabilities and low-cost model to improve customer experience and reduce operational costs," said Otto Williams, Visa's vice president and head of strategic partnerships – FinTech and ventures – for Central Europe, Middle East and Africa.

Visa has launched global initiatives – FinTech Fast Track programme and Visa Everywhere Initiative – to support the digital transition. In the UAE, the company is exploring digital avenues through its partnership with FinTech Hive, which is backed by the Dubai International Financial Centre.

Regional interest in FinTech has soared in recent years as more entities enter the market with solutions to cut costs and better serve customers.

The DIFC rolled out the $100 million (Dh367m) FinTech fund in 2017 to help establish start-ups and grow their businesses. Likewise, Bahrain Development Bank and the Economic Development Board of Bahrain launched two separate funds of $100m each to support FinTech start-ups last year.

The UAE tops the list of countries with the highest number of FinTech start-ups in the region with 67, according to Bloomberg Intelligence, followed by Turkey at 44 and Jordan and Lebanon tying at 30.

Sonny Zulu, head of retail banking at Standard Chartered UAE, said banks and FinTechs complement each other.

"Traaditional banks cannot match the pace of FinTech innovation … [whereas] the latter cannot stand on their own.

"A partnership between them is a win-win situation that ensures compliance to financial regulations and consumer protection while capitalising on the trending innovations," said Mr Zulu.

SC Ventures – a fully owned subsidiary of Standard Chartered – is taking minority stakes in FinTech companies through its $100m innovation investment fund. It has backed projects such as Ripple, which connects banks and payment providers via RippleNet, for an undisclosed amount.

Last month, American multinational bank Citi announced a FinTech challenge for companies based in the Middle East and North Africa

"We are calling on FinTechs with relevant innovative solutions, ranging from existing enterprises to early stage start-ups. This will uncover innovative solutions for our clients," said Emre Karter, treasury and trade solutions head for Mena, Pakistan and Turkey at Citi.

"By offering the FinTech community the opportunity to showcase their ideas, we hope to contribute in the development and growth of the overall financial ecosystem in the region," Mr Karter added.
Source: The National - Business