Standard Chartered aims to build new digital capabilities with 5G inclusion
Posted On June 2, 2019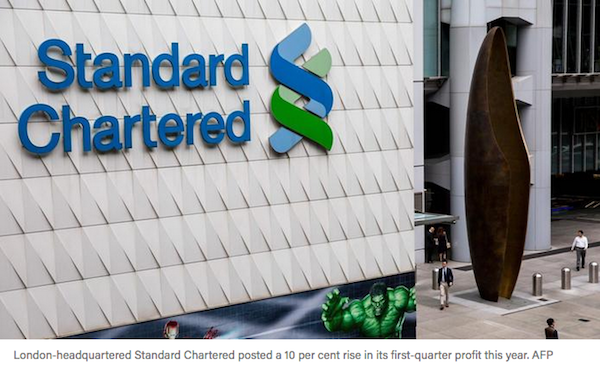 Standard Chartered aims to build new digital capabilities with 5G inclusion

By adding the technology, banks can provide consumers with free internet access at their branches and real-time digital engagements
London-headquartered Standard Chartered posted a 10 per cent rise in its first-quarter profit this year. AFP
London-headquartered Standard Chartered posted a 10 per cent rise in its first-quarter profit this year. AFP
Alkesh Sharma
Alkesh Sharma

July 2, 2019

Standard Chartered bank said the introduction of fifth-generation wireless networks, known as 5G, will enhance consumers' experience while taking its core banking services to the remotest regions – tasks that are currently hindered due to low internet speeds and heavy traffic on existing banking apps.

"With 5G, we expect more real-time interactive engagement between the clients and the bank … adding many new services on our digital platforms," said Sonny Zulu, head of retail banking at Standard Chartered UAE.

5G will be up to 100 times faster than the 4G network that is currently used by more than 3.6 billion mobile internet users around the world.

It will ensure new possibilities in banking, such as chatbots with both audio and video capabilities, facial recognition, real-time interactions with virtual relationship managers, video demos of products and services, and automated teller services in smartphones.

"Banks will be able to deploy 5G-enabled digital kiosks anywhere … entirely wireless with no need of any physical infrastructure. We can reach unbanked populations more effectively, with more people accessing routine banking services especially in the remote areas," said Mr Zulu.

Nearly two-thirds of companies globally plan to install 5G by 2020, as its speed will enable new industries such as remote surgery through real-time video streaming - where doctors based at different locations can interact through a live video feed - and improved autonomous transport, according to a report released by US researcher Gartner in January this year.

In the financial sector, 5G promises huge returns. According to IHS Markit estimates, economic activity in the financial and insurance sectors enabled by 5G could be worth $676 billion (Dh2.4 trillion) by 2035.

London-headquartered Standard Chartered, which posted a 10 per cent rise in its first-quarter profit, is looking to collaborate with financial technology [FinTech] firms as it embraces 5G in the coming months.

"FinTech firms offer exciting innovations and will help to provide a richer [5G] banking experience to its clients," said Mr Zulu, adding Standard Chartered is 5G ready but waiting for regulatory directions from the Central Bank of the UAE and the Telecommunications Regulatory Authority for the banking industry before implementing it in its core operations.
Founded in 2017, SC Ventures - a fully owned subsidiary of Standard Chartered - is taking minority stakes in FinTech firms through its $100 million innovation investment fund. It has already backed FinTechs such as Ripple and Paxata with undisclosed amounts.

The UAE, with the second-highest smartphone adoption rate globally and one of the world's most digitally-connected societies, is a leading potential market for banks to implement 5G-enabled services. With the operating system excepted to provide speeds of over 430 megabits per second, banks can provide free internet access at their branches without affecting the bandwidth requirements for other bank applications.

One of the most promising aread for the adoption of 5G in financial services in the UAE lies in wearable devices and connected devices, said Mr Zulu, enabling easy and fast transactions "on the go". The increase in the transmission of more data in real-time will also improve fraud prevention, as banks will be able to scan transactions and detect anomalies much faster.

"These devices [wearables] could share relevant data with financial service providers and with each other – potentially with even more reliability and lower latency than ever before," he added.
Source: The National - Business