Sharjah Islamic Bank Unveils ATM with AI for Visually Impaired
Posted On January 8, 2018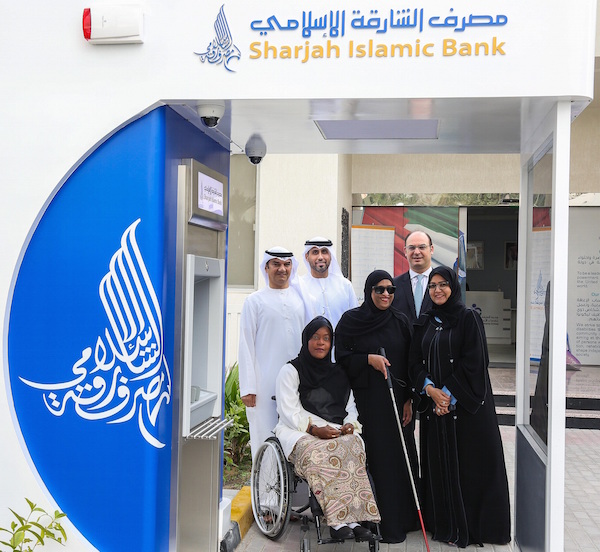 Sharjah Islamic Bank (SIB), in collaboration with Sharjah City for Humanitarian Services (SCHS), unveiled an unprecedented automated teller machine (ATM) in the Middle East, designed with artificial intelligence technology, to meet the needs of people with visual and mobility impairment on Monday, Jan.8.

The innovative ATM enables differently-abled persons to take control of banking transactions independently, without the need for additional assistance. The new ATM uses the audio guidance, Braille stickers and headphones to enable visually impaired customers to securely navigate the ATM and execute their banking transactions with ease.

The initiative is part of the efforts to integrate people with disabilities into society and cater for their financial needs.

The new ATM was installed at the SCHS to offer four standard services to people with disability, namely cash withdrawal, balance enquiry, mini statement and PIN change. In addition, it is also accessible to able-bodied people, offering cash withdrawal, utility bill payment, donations, and many other services. The launch was attended by Sheikha Jameela Bint Mohammed Al Qasimi, Director General of Sharjah City for Humanitarian Services, Mohammed Abdullah, Chief Executive Officer of Sharjah Islamic Bank, Nabil Abou Alwan, Head of Retail Banking Group at SIB, Walid Al Amoudi, Head of Electronic Channels at SIB and Muna Abdulkareem, General Manager at SCHS.

Mohammed Abdullah, Chief Executive Officer of Sharjah Islamic Bank said, "This initiative is part of our efforts with the SCHS to help people with disabilities and provide them with the supportive technology that enhances their independence and financial empowerment and help them to integrate into the community. These efforts are in line with the UAE Government orientation towards the empowerment of people with disabilities by implementing the best policies and practices which help them make decisions and have equal participation in all aspects of society. The new ATM offers its services flexibly to able-bodied people, too.

"It is our pride that we are the first financial institution in the Middle East to launch such an ATM that serves two categories of disabilities, namely visually impaired people, and wheelchair users, alike. It is not the first service offered by the bank to people with special needs. SIB has opened the first ATM in the Middle East available to wheelchair users in the Al Thiqah Club for Handicapped, as well as the first ATM for visually impaired people at the Emirates Association of the Visually Impaired with a second ATM at the University of Sharjah."

Sheikha Jameela Bint Mohammed Al Qasimi, Director General of Sharjah City for Humanitarian Services, said: "We are proud of the continuous achievements in the emirate of Sharjah thanks to the vision of His Highness Dr Sheikh Sultan Bin Mohammed Al Qasimi, Supreme Council Member and Ruler of Sharjah, in making the emirate, in all its cities and suburbs, an ideal place to live in for people with disability and all segments of society."

She added that SIB's initiative to ensure that people with disability have access to banking services showed a great sense of social responsibility. "They are leading the way in providing training and recruitment for people with disabilities and special ATMs for wheelchair users for over 10 years. Now, they are providing banking facilities to visually impaired people to enable them take control of their financial needs without the need for help."

She commended the continuous and generous support by SIB to SCHS and the beneficiaries of its services. What is more, the bank recently signed an MoU with SCHS to provide zero-interest finance to enable SCHS beneficiaries to buy adaptive equipment, medical supplies, and assistive devices and technology.
Source: The Gulf Today