Healthy Paranoia is Good for Banks Facing Fintech Disruption
Posted On November 19, 2017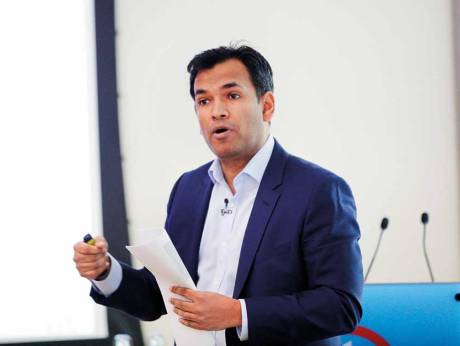 The banking industry across the world is facing digital disruption and banks including those in the Middle East have little choice but to join the bandwagon to protect their market shares and some lines of businesses that face existential threats, a Citigroup official said.
"The fintech revolution could see the incumbent banks losing market shares, margin pressure and eventually some businesses becoming unviable as it will become free of charges. In payments business banks are already facing margin pressures and loss of client-base as innovative fintechs offer cost effective solutions," said Ronit Ghose, Global Head of Banking Research, Citi Research.

As part of facing the fintech challenge Citi is investing heavily in technology platforms, talent, in-house technology incubators, accelerators and collaborations with fintech companies.

"Citigroup has been innovating throughout its history. Apart from survival, our focus is more on innovations that help ease pain points in processes for our customers. Given the pace of innovation, healthy degree of paranoia is good for the industry," said Jim Cowles, EMEA CEO of Citi.

The pace of disruption in the financial industry could accelerate as the market share of fintech companies reaches critical mass. Conventional banking's value chain essentially involves functions such as taking savings, providing loans and facilitating payments. In this value chain risk of disruption is highest is in the payments business model because it is the least capital intensive and most tech intensive.
Alibaba
While savings and lending involve the balance sheet and regulation, in the case of payments, business is balance sheet-light and regulations are relatively lower, attracting most innovators to this segment.
Fintech has already become a major player in the payments industry in China. There, all online payment companies and fintech companies have all the advantages of incumbent companies in the West. For example Alipay in China has done three times more transactions than PayPal because Alibaba has more online transactions. It clearly shows that once that ecosystem takes off, it is very easy for fintech to grow.
"Although a disruption is happening in most of the markets around the world in the payment industry, the extent of disruption is much less than what is happening in China," said Ghose.
China's lead in fintech in consumer business is evident in its share of global fintech venture capital investments, which surged from 19 per cent in 2015 to 46 per cent in 2016.
China is at the sweet spot for fintech disruption where the population is digitally enabled but the banking system is relatively underdeveloped. The smart phone penetration rate of about 75 per cent is among the highest in the world, similar to Western Europe. However, the exposure of the local banking system to consumer clients is similar to poorer emerging markets. China's banking system focuses on large corporate clients, state-owned enterprises (SOEs) and property, industry, and government-related activities. Meanwhile a rapidly growing, digitally enabled middle class has been left underserved and the digital solutions are plugging this gap.
Next wave
The new wave of investments in fintech is happening in business to business (B2B) solutions where global banks are investing heavily.
"We are starting to see a shift towards B2B investments, particularly as financial institutions are increasingly involved in fintech as direct buyers or via VC funds. There is increasing collaboration between fintech and traditional banks. Fintech companies use banks as a source of funding and for access to product expertise; banks have also set up innovation centers and labs, sponsored hackathons, and other events," said Ghose.
By dollar value invested, B2C still dominate in the US fetching more than 60 per cent of total VC funding in 2016. There is however some evident shift, especially in the US, towards B2B based investments. By number, 56 per cent of the 41 largest fintech VC deals were B2B. The diverse B2B solutions range from payments infrastructure, blockchain solutions for financial institutions, enterprise tools for tax and accounting.
A new emerging trend shows, relative to the Silicon Valley-based tech VCs, bank affiliated VCs have greater weight in B2B FinTechs. For example, both Citi Ventures and Propel Venture Partners have portfolios with companies that improve business efficiency (business tools) as well as security. One part of the value proposition of bank VCs for start-ups is access to their clients as start-ups tend to be long ideas and short clients.
Wealth management
"A large number of banks are now exploring the possibility of start-ups in financial services. The shift is towards more grass roots level fintech evolution," said Ornit Shinar, Head of Citi Accelerator and Venture Investing.
As fintech penetration extends to more areas of business such as wealth management, insurance brokerage, equity crowdfunding banks are increasingly keen on investing and collaborating with fintechs.
"As part of tapping the efficiencies of fintechs in developing innovative solutions, we are opening our An application programme interface (API) [ the code that allows two software programs to communicate with each other] to our fintech partners to develop innovative applications," said Tom Isaac, EMEA Corporate Banking Head.
Source: Gulf News