Emirates NBD Launches New Digital Branch
Posted On November 15, 2017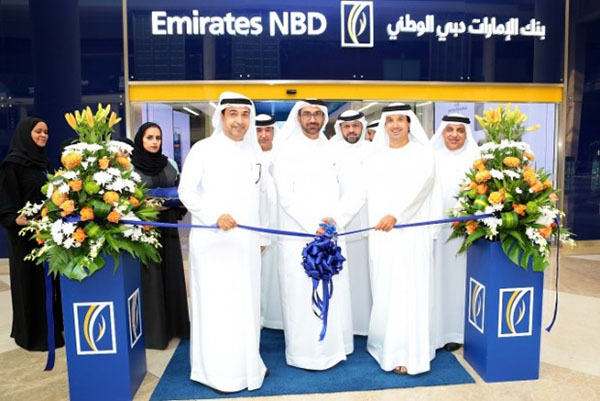 Inaugurated by HE Hesham Abdulla Qassim, Vice Chairman of Emirates NBD Group and HE Helal Saeed Almarri, Director General, Dubai World Trade Centre Authority (DWTCA) and Dubai Department of Tourism and Commerce Marketing (DTCM) and CEO of DWTC, the new branch embodies the bank's tech-plus-touch ethos by offering both self-service and assisted banking solutions, powered by digital technology.

The branch would feature convenient banking and payment solutions that will allow customers to carry out on their own a variety of transactions as well as apply for new products, and will be open 24/7.

"With a clear focus on being the digital banking leader in the UAE and wider region, Emirates NBD is making strategic investments in technologies that modernise both our front-end and back-end operations and transform us into a smart, connected bank within a smart economy. Our new paperless branch embodies a philosophy of offering customers a modern banking experience complemented by a strong human element," said Qassim.

The branch has a modern look and feel with vibrant LED walls showcasing self-service and assisted service solutions, in addition to touchscreens and tablets offering useful information and product guidance to customers. Trained branch ambassadors are present to guide customers and to offer personalised assistance with accessing the right digital solutions for their transactions. Pepper, the bank's artificial intelligence powered humanoid robot is also present to provide customers with information about products and services as well as information on the bank's various innovative solutions through a natural language conversation.

"Dubai World Trade Centre's priorities are strategically aligned with the smart city and innovation agenda of Dubai and the UAE. Creating an enabling future-forward ecosystem within our venue – both from an infrastructure and services perspective – means that we strive to ensure the provision of the most digitally advanced, smart technologies and platforms that cater to the needs of our business visitors from around the world. Emirates NBD's first paperless branch at Dubai World Trade Centre offering seamless and uninterrupted banking services and transactions to global visitors ultimately enhances our ability to continue to attract new and repeat international business travellers to Dubai," said Almarri.

The new branch, fostered by the bank's Future Lab, is part of Emirates NBD's AED 1 billion investment over the next three years towards its digital transformation programme, to further innovation and multichannel transformation of its processes, products and services.

"We are evolving our branch network in tune with the changing needs of customers as they look to increasingly rely on self-service. We have fully digitalised several transactions including Personal Loan applications, Credit Card applications and soon Account Opening, allowing our staff to focus on offering customers personalised advice and assistance," added Suvo Sarkar, Senior Executive Vice President – Head of Retail Banking & Wealth Management, Emirates NBD.
Source: CPI Financial