UAE: The Future is Cashless
Posted On May 14, 2017
Across the world, nations are engaged in a race to move to a cashless economy. At first glance, the UAE looks to be a long way off with 75 per cent of all transactions still made using cash, but the country is laying the foundations to go digital.

"The UAE ranks foremost among regional economies most rapidly moving away from cash," says Eyad Al Kourdi, General Manager of Southern Gulf, and Middle East and North Africa MasterCard Advisor.

"Accessibility of financial services, level of technology available and the extent of consumer participation in the formal economy are key determinants in a country's readiness to move to a cashless society, and the UAE fares extremely well on all these counts."

Government intent

Proactive government policies have been crucial in building a digital culture in the UAE and eliminating many of the barriers to becoming a cashless society.

Digital commerce and cashless payments were identified as top government priorities in UAE Vision 2021. The government has implemented a number of initiatives to support it, such as the wage protection system, which ensures that 4.7 million migrant workers get paid electronically every month. In 2016, there were 38.6 million cashless transactions via e-Dirham, a rise of 6.94 per cent compared to 2015.

Industry support

The cashless journey is also being supported by financial institutions in the country. About 17 banks have agreed to support the Emirates Digital Wallet programme, which is expected to accelerate digital payments.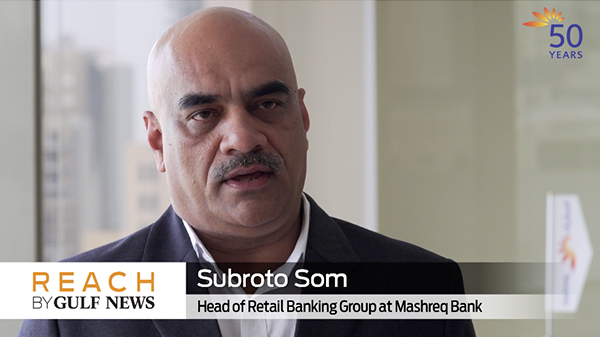 "While we are still some way off from being a totally cashless society, we do believe that e-wallet and mobile banking will replace cash transactions to a significant degree," says Subroto Som, Head of Retail Banking Group at Mashreq.

"Two factors will drive this. One is convenience and simplicity for the customer, and the other is the high cost of handling cash."

Mashreq's initiatives are aligned with the UAE's vision to become a digital economy, says Som. "The penetration of digital wallets is still in a nascent stage, but I believe the market will grow exponentially in the next few years."

Change agent

The Dubai-based bank, which is celebrating its 50th anniversary this year, is one of the most active lenders in the UAE. It sees technology as a key area of innovation and is making huge investments in the field to differentiate itself.

"Digitisation of products and services is complex, but it makes banking simpler, convenient and enjoyable for the customer," says Som.

For instance, the mobile banking application the bank has implemented, Snapp, allows its customers to withdraw cash from any Mashreq ATM without using their card and enables them to block their cards for use in a particular country, day or location. The app also allows the bank to target its customers with personal, location-based and contextual offers. More than three quarters of Mashreq's customers now use their phones for day-to-day banking transactions.

This year the bank celebrated another milestone, being the first in the country to launch Samsung Pay. "Samsung Pay is an example of a digital mobile wallet service that will allow people in the UAE to adopt cashless pay," says Mohammed Gharaibeh, Head of IT and Mobiles (B2B) Division at Samsung Gulf Electronics.

Infrastructure ready

The infrastructure for digital payments is well established in the UAE. Mobile phone penetration is now at a world-record high of 233 per cent, according to recent estimates. For every 100 residents, about 78 use smartphones, according to research from the consultancy firm, McKinsey.

Almost 100 per cent of households in the country have internet access, and there are 150,000 point-of-sale (POS) terminals in use – 50 per cent of which are already equipped to handle contactless payments.

Exciting times

Technological advances in the industry make it an exciting time to be a banker, says Som.

"I think consumer behaviour is changing fast and our ability to influence and participate is exciting. And new technology allows us to do all of that."

The fact is many technology solutions in use now have been available for a long time, but they are becoming more affordable, which means they can now be made accessible to a larger audience, explains Som.

"Consumer confidence in using them has also increased. It is taking us to a place where what was technically difficult and was a dream can now be made possible."
Source: Gulf News